Open media in modal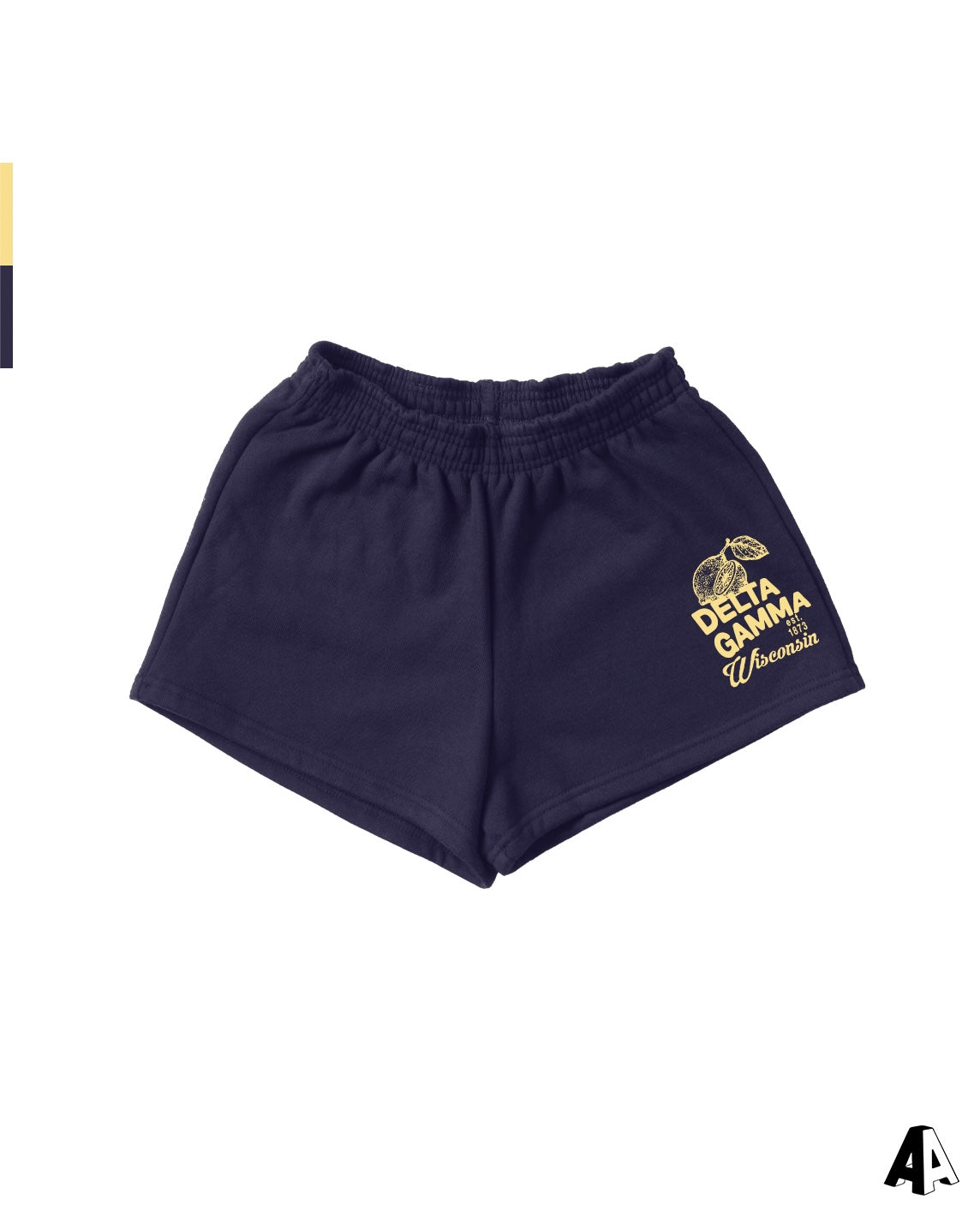 Lemonade Shorts Delta Gamma University of Wisco-Madison
Printed on Heavy Fleece Shorts in Navy
This product will be available for purchase until July 25th at 11:59pm EST, 2023. After this store expires, products will go into production phase. 
You will be notified via email when production has been completed and your order has shipped. All products will be shipped to the following address regardless of what address is entered at checkout:
103 Langdon St, Madison, WI 53703, United States
These shorts are made of our best selling 14oz 100% cotton fleece, making it comfy, easy, and versatile. Pair with a hoodie or tank for indoor lounging or errands out of the house. Take your regular size up for a looser fit.

Waist (Elastic)
Inseam
S

26-28 in.

23/8

 

in.
M

28-30 in.

23/8

 

in.
L

30-32 in.

21/2

 

in.
Sizing Chart
Hoodie / Crewneck (UNISEX FIT)
| | | | | |
| --- | --- | --- | --- | --- |
|   | S | M | L | XL |
| Body Length | 27 | 28 | 29 | 30 |
| Body Length Tolerance | +/-1 | +/-1 | +/-1 | +/-1 |
| Chest Tolerance | +/-1 | +/-1 | +/-1 | +/-1 |
| Chest Width (Laid Flat) | 20 | 22 | 24 | 26 |
| Sleeve Length (From Center Back) | 33 1/2 | 34 1/2 | 35 1/2 | 36 1/2 |
| Sleeve Tolerance | +/-1 | +/-1 | +/-1 | +/-1 |
Classic Baby Tee (WOMEN FIT, RUNS SMALL)
| | | | |
| --- | --- | --- | --- |
|   | BODY LENGTH | CHEST WIDTH | SLEEVE LENGTH |
| XS | 211/8 in. | 125/8 in. | 53/8 in. |
| S | 215/8 | 135/8 in. | 51/2 in. |
| M | 221/8 in. | 145/8 in. | 57/8 in. |
| L | 225/8 in. | 155/8 in. | 6in. |
| XL | 231/8 in. | 165/8 in. | 63/8 in. |
| 2XL | 235/8 in. | 175/8 in. | 61/2 in. |
Ribbed Tank (WOMEN FIT, RUNS SMALL):
| | | | |
| --- | --- | --- | --- |
|   | BODY LENGTH | CHEST WIDTH | ARMHOLE |
| XS | 183/8 in. | 91/4 in. | 91/2 in. |
| S | 187/8 in. | 101/4 in. | 97/8 in. |
| M | 193/8 in. | 111/4 in. | 101/8 in. |
| L | 197/8 in. | 121/4 in. | 101/2 in. |
| XL | 203/8 in. | 131/4 in. | 103/4 in. |
Crop Baby Tee (WOMEN FIT, RUNS SMALL)
| | | | |
| --- | --- | --- | --- |
|   | FRONT BODY LENGTH (HPS TO EDGE) | CHEST WIDTH (1" BELOW ARMHOLE) | SLEEVE LENGTH |
| XS | 161/2 in. | 125/8 in. | 33/8 in. |
| S | 17 in. | 135/8 in. | 31/2 in. |
| M | 171/2 in. | 145/8 in. | 35/8 in. |
| L | 18 in. | 155/8 in. | 33/4 in. |
| XL | 181/2 in. | 165/8 in. | 37/8 in. |
Long Baby Tee (WOMEN FIT, TRUE TO SIZE)
| | | | | |
| --- | --- | --- | --- | --- |
|   | S | M | L | XL |
| Body Length | 26 1/4 | 26 3/4 | 27 3/8 | 28 |
| Body Length Tolerance | 3/8 | 3/8 | 3/8 | 3/8 |
| Chest Tolerance | 1/2 | 1/2 | 1/2 | 1/2 |
| Chest Width (Laid Flat) | 16 | 16 3/4 | 17 3/4 | 18 3/4 |
| Sleeve Length | 6 1/4 | 6 1/2 | 6 3/4 | 7 1/4 |
Standard Shorts (WOMEN FIT)
| | | | | | |
| --- | --- | --- | --- | --- | --- |
|   | WAIST | INSEAM | FRONT CROTCH | BACK CROTCH | HIP WIDTH |
| S | 26 in. | 21/2 in. | 111/4 in. | 15 in. | 201/2 in. |
| M | 28 in. | 21/2 in. | 115/8 in. | 153/8 in. | 207/8 in. |
| L | 29 in. | 21/2 in. | 121/8 in. | 157/8 in. | 217/8 in. |
| XL | 30 in. | 21/2 in. | 125/8 in. | 163/8 in. | 227/8 in. |
T-Shirt (UNISEX FIT)
| | | | | | |
| --- | --- | --- | --- | --- | --- |
|   | S | M | L | XL | 2XL |
| Body Length | 28 | 29 | 30 | 31 | 32 |
| Body Length Tolerance | +/-1 | +/-1 | +/-1 | +/-1 | +/-1 |
| Chest Tolerance | +/-1 | +/-1 | +/-1 | +/-1 | +/-1 |
| Chest Width (Laid Flat) | 18 | 20 | 22 | 24 | 26 |
Sweatpants (UNISEX FIT
| | | | | | |
| --- | --- | --- | --- | --- | --- |
|   | S | M | L | XL | 2XL |
| Inseam | 30 1/2 | 31 | 31 1/2 | 32 | 32 1/2 |
| Waist | 26 | 28 | 30 | 32 | 34 |