Open media in modal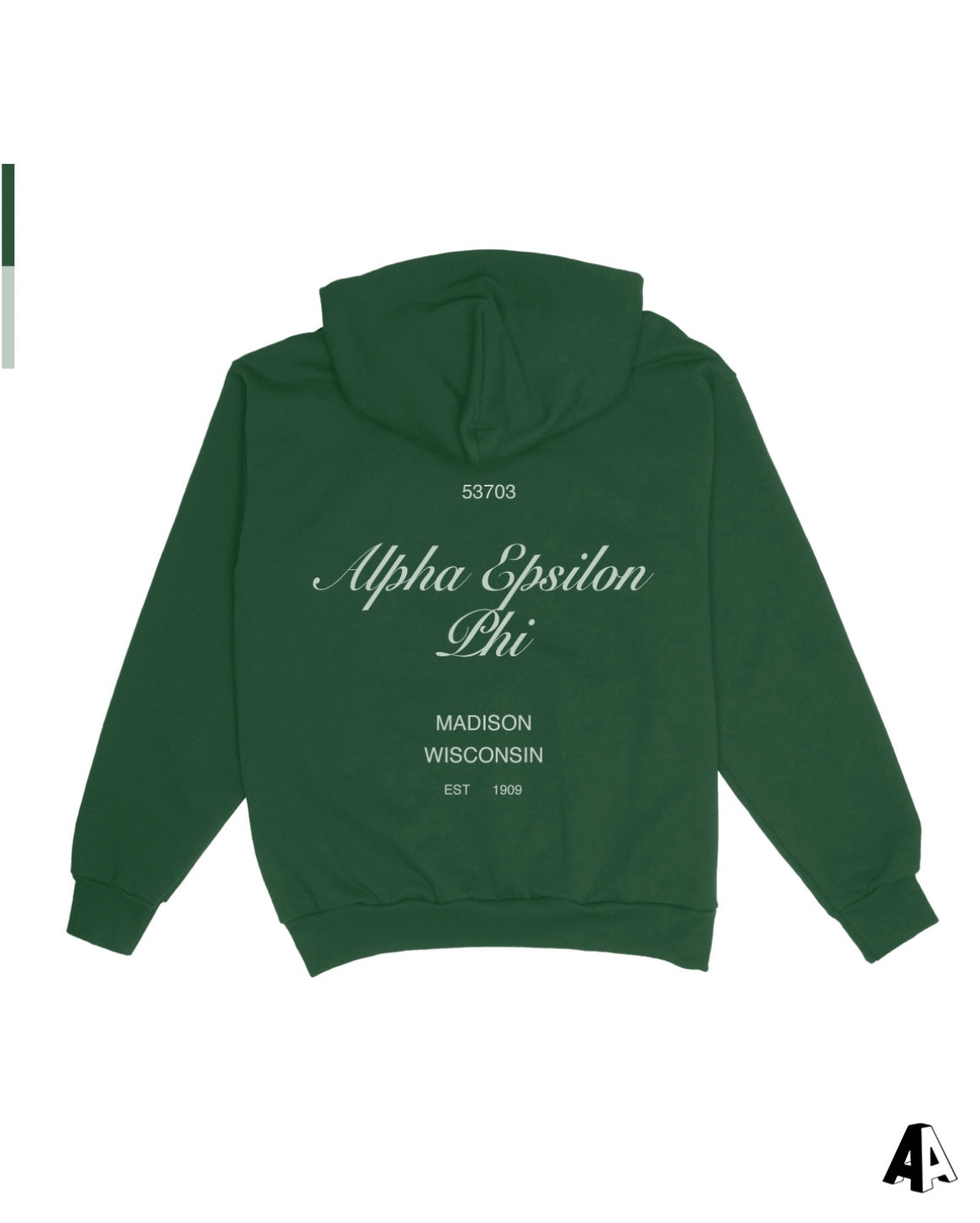 Open media in modal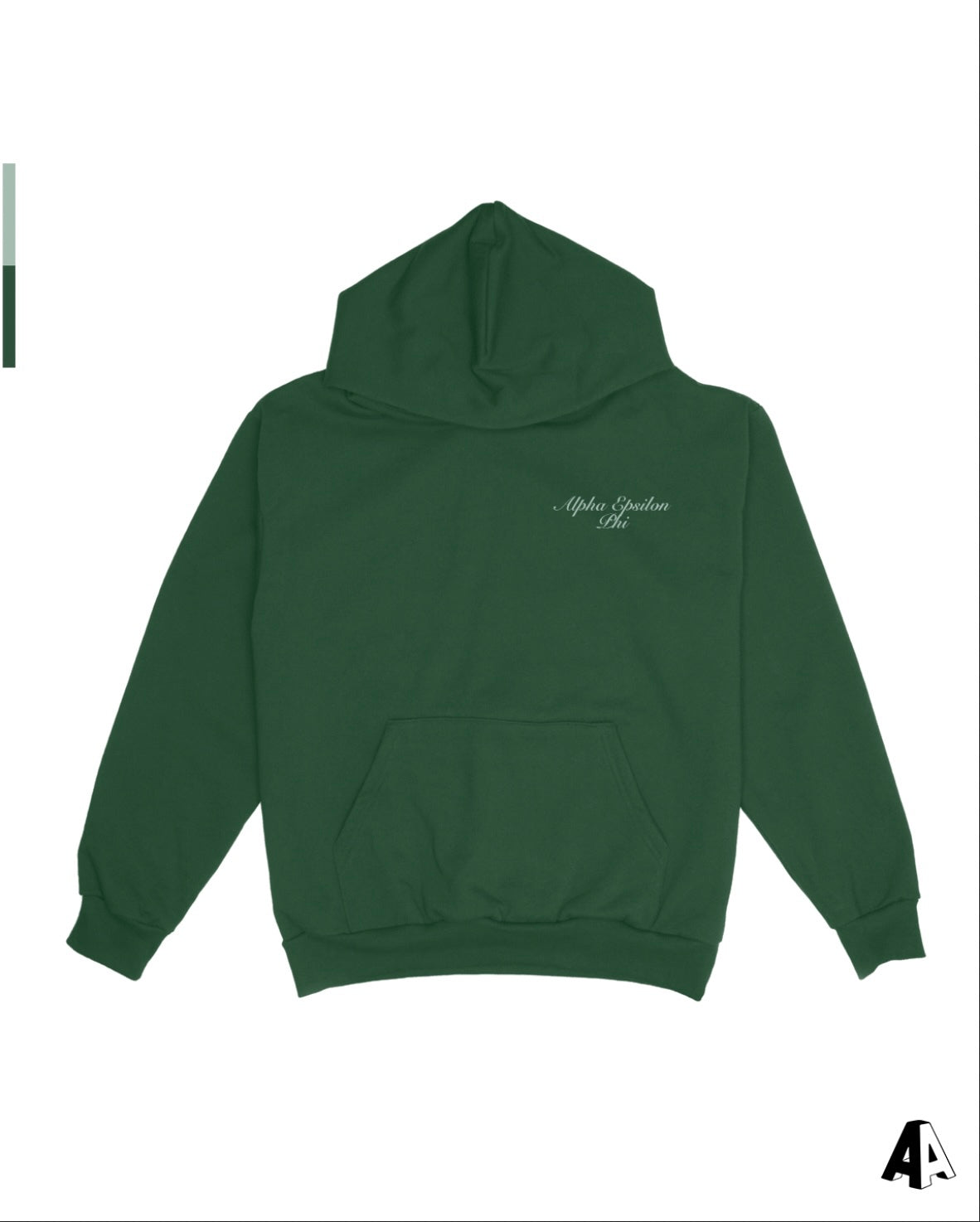 1
2
Script Hoodie Alpha Epsilon Phi Wisco-Madison
Printed on Unisex Hoodie in Forest Green
All products will be shipped to the following address regardless of address entered at checkout:
220 E Lakelawn Pl. Madison, WI 53703
Products will be put into production and shipped upon store closure. Please allow time for shipping / production during these uncertain times caused by COVID-19. We may be effected by statewide closure of non-essential businesses.


S

M
L
XL
Body Length
26 3/5
28
29 2/5
30 3/4
Body Length Tolerance
-/+ 1
-/+ 1
-/+ 1
-/+ 1
Chest Tolerance
-/+ 3/4
-/+ 3/4
-/+ 3/4
-/+ 3/4
Chest Width (Laid Flat)
17 12
19 1/2
21 1/4
23


Please note that products will not be delivered until 2-3 weeks after this store has closed
Sizing Chart
Hoodie / Crewneck (UNISEX FIT)
| | | | | |
| --- | --- | --- | --- | --- |
|   | S | M | L | XL |
| Body Length | 27 | 28 | 29 | 30 |
| Body Length Tolerance | +/-1 | +/-1 | +/-1 | +/-1 |
| Chest Tolerance | +/-1 | +/-1 | +/-1 | +/-1 |
| Chest Width (Laid Flat) | 20 | 22 | 24 | 26 |
| Sleeve Length (From Center Back) | 33 1/2 | 34 1/2 | 35 1/2 | 36 1/2 |
| Sleeve Tolerance | +/-1 | +/-1 | +/-1 | +/-1 |
Classic Baby Tee (WOMEN FIT, RUNS SMALL)
| | | | |
| --- | --- | --- | --- |
|   | BODY LENGTH | CHEST WIDTH | SLEEVE LENGTH |
| XS | 211/8 in. | 125/8 in. | 53/8 in. |
| S | 215/8 | 135/8 in. | 51/2 in. |
| M | 221/8 in. | 145/8 in. | 57/8 in. |
| L | 225/8 in. | 155/8 in. | 6in. |
| XL | 231/8 in. | 165/8 in. | 63/8 in. |
| 2XL | 235/8 in. | 175/8 in. | 61/2 in. |
Ribbed Tank (WOMEN FIT, RUNS SMALL):
| | | | |
| --- | --- | --- | --- |
|   | BODY LENGTH | CHEST WIDTH | ARMHOLE |
| XS | 183/8 in. | 91/4 in. | 91/2 in. |
| S | 187/8 in. | 101/4 in. | 97/8 in. |
| M | 193/8 in. | 111/4 in. | 101/8 in. |
| L | 197/8 in. | 121/4 in. | 101/2 in. |
| XL | 203/8 in. | 131/4 in. | 103/4 in. |
Crop Baby Tee (WOMEN FIT, RUNS SMALL)
| | | | |
| --- | --- | --- | --- |
|   | FRONT BODY LENGTH (HPS TO EDGE) | CHEST WIDTH (1" BELOW ARMHOLE) | SLEEVE LENGTH |
| XS | 161/2 in. | 125/8 in. | 33/8 in. |
| S | 17 in. | 135/8 in. | 31/2 in. |
| M | 171/2 in. | 145/8 in. | 35/8 in. |
| L | 18 in. | 155/8 in. | 33/4 in. |
| XL | 181/2 in. | 165/8 in. | 37/8 in. |
Long Baby Tee (WOMEN FIT, TRUE TO SIZE)
| | | | | |
| --- | --- | --- | --- | --- |
|   | S | M | L | XL |
| Body Length | 26 1/4 | 26 3/4 | 27 3/8 | 28 |
| Body Length Tolerance | 3/8 | 3/8 | 3/8 | 3/8 |
| Chest Tolerance | 1/2 | 1/2 | 1/2 | 1/2 |
| Chest Width (Laid Flat) | 16 | 16 3/4 | 17 3/4 | 18 3/4 |
| Sleeve Length | 6 1/4 | 6 1/2 | 6 3/4 | 7 1/4 |
Standard Shorts (WOMEN FIT)
| | | | | | |
| --- | --- | --- | --- | --- | --- |
|   | WAIST | INSEAM | FRONT CROTCH | BACK CROTCH | HIP WIDTH |
| S | 26 in. | 21/2 in. | 111/4 in. | 15 in. | 201/2 in. |
| M | 28 in. | 21/2 in. | 115/8 in. | 153/8 in. | 207/8 in. |
| L | 29 in. | 21/2 in. | 121/8 in. | 157/8 in. | 217/8 in. |
| XL | 30 in. | 21/2 in. | 125/8 in. | 163/8 in. | 227/8 in. |
T-Shirt (UNISEX FIT)
| | | | | | |
| --- | --- | --- | --- | --- | --- |
|   | S | M | L | XL | 2XL |
| Body Length | 28 | 29 | 30 | 31 | 32 |
| Body Length Tolerance | +/-1 | +/-1 | +/-1 | +/-1 | +/-1 |
| Chest Tolerance | +/-1 | +/-1 | +/-1 | +/-1 | +/-1 |
| Chest Width (Laid Flat) | 18 | 20 | 22 | 24 | 26 |
Sweatpants (UNISEX FIT
| | | | | | |
| --- | --- | --- | --- | --- | --- |
|   | S | M | L | XL | 2XL |
| Inseam | 30 1/2 | 31 | 31 1/2 | 32 | 32 1/2 |
| Waist | 26 | 28 | 30 | 32 | 34 |