Open media in modal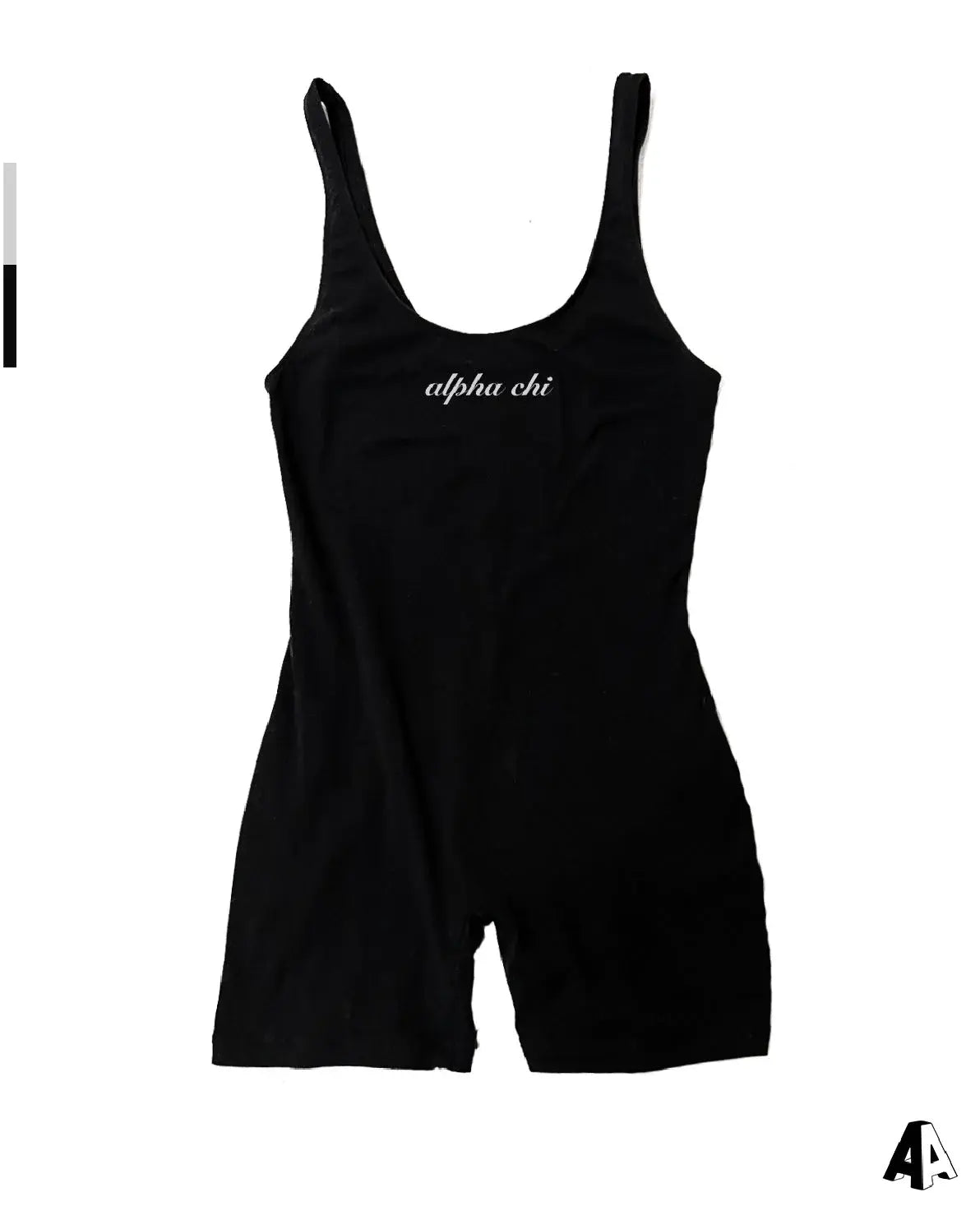 Script Bodysuit Alpha Chi Omega University of Kansas
Printed on Black Bodysuit
products will be shipped to the following address regardless of what is entered at checkout:
1500 Sigma Nu Place, Lawrence, KS, 66044
This form fitting biketard made from our stretchy cotton spandex material is perfect to wear to dance or the yoga studio. Everything you need in one piece. Transition this piece into nighttime by pairing it with an oversized jacket or sweatshirt.
• Made in U.S.A.
Cotton / Spandex Jersey (95% Cotton / 5% Elastane)
Sizing Chart
Hoodie / Crewneck (UNISEX FIT)
| | | | | |
| --- | --- | --- | --- | --- |
|   | S | M | L | XL |
| Body Length | 27 | 28 | 29 | 30 |
| Body Length Tolerance | +/-1 | +/-1 | +/-1 | +/-1 |
| Chest Tolerance | +/-1 | +/-1 | +/-1 | +/-1 |
| Chest Width (Laid Flat) | 20 | 22 | 24 | 26 |
| Sleeve Length (From Center Back) | 33 1/2 | 34 1/2 | 35 1/2 | 36 1/2 |
| Sleeve Tolerance | +/-1 | +/-1 | +/-1 | +/-1 |
Classic Baby Tee (WOMEN FIT, RUNS SMALL)
| | | | |
| --- | --- | --- | --- |
|   | BODY LENGTH | CHEST WIDTH | SLEEVE LENGTH |
| XS | 211/8 in. | 125/8 in. | 53/8 in. |
| S | 215/8 | 135/8 in. | 51/2 in. |
| M | 221/8 in. | 145/8 in. | 57/8 in. |
| L | 225/8 in. | 155/8 in. | 6in. |
| XL | 231/8 in. | 165/8 in. | 63/8 in. |
| 2XL | 235/8 in. | 175/8 in. | 61/2 in. |
Ribbed Tank (WOMEN FIT, RUNS SMALL):
| | | | |
| --- | --- | --- | --- |
|   | BODY LENGTH | CHEST WIDTH | ARMHOLE |
| XS | 183/8 in. | 91/4 in. | 91/2 in. |
| S | 187/8 in. | 101/4 in. | 97/8 in. |
| M | 193/8 in. | 111/4 in. | 101/8 in. |
| L | 197/8 in. | 121/4 in. | 101/2 in. |
| XL | 203/8 in. | 131/4 in. | 103/4 in. |
Crop Baby Tee (WOMEN FIT, RUNS SMALL)
| | | | |
| --- | --- | --- | --- |
|   | FRONT BODY LENGTH (HPS TO EDGE) | CHEST WIDTH (1" BELOW ARMHOLE) | SLEEVE LENGTH |
| XS | 161/2 in. | 125/8 in. | 33/8 in. |
| S | 17 in. | 135/8 in. | 31/2 in. |
| M | 171/2 in. | 145/8 in. | 35/8 in. |
| L | 18 in. | 155/8 in. | 33/4 in. |
| XL | 181/2 in. | 165/8 in. | 37/8 in. |
Long Baby Tee (WOMEN FIT, TRUE TO SIZE)
| | | | | |
| --- | --- | --- | --- | --- |
|   | S | M | L | XL |
| Body Length | 26 1/4 | 26 3/4 | 27 3/8 | 28 |
| Body Length Tolerance | 3/8 | 3/8 | 3/8 | 3/8 |
| Chest Tolerance | 1/2 | 1/2 | 1/2 | 1/2 |
| Chest Width (Laid Flat) | 16 | 16 3/4 | 17 3/4 | 18 3/4 |
| Sleeve Length | 6 1/4 | 6 1/2 | 6 3/4 | 7 1/4 |
Standard Shorts (WOMEN FIT)
| | | | | | |
| --- | --- | --- | --- | --- | --- |
|   | WAIST | INSEAM | FRONT CROTCH | BACK CROTCH | HIP WIDTH |
| S | 26 in. | 21/2 in. | 111/4 in. | 15 in. | 201/2 in. |
| M | 28 in. | 21/2 in. | 115/8 in. | 153/8 in. | 207/8 in. |
| L | 29 in. | 21/2 in. | 121/8 in. | 157/8 in. | 217/8 in. |
| XL | 30 in. | 21/2 in. | 125/8 in. | 163/8 in. | 227/8 in. |
T-Shirt (UNISEX FIT)
| | | | | | |
| --- | --- | --- | --- | --- | --- |
|   | S | M | L | XL | 2XL |
| Body Length | 28 | 29 | 30 | 31 | 32 |
| Body Length Tolerance | +/-1 | +/-1 | +/-1 | +/-1 | +/-1 |
| Chest Tolerance | +/-1 | +/-1 | +/-1 | +/-1 | +/-1 |
| Chest Width (Laid Flat) | 18 | 20 | 22 | 24 | 26 |
Sweatpants (UNISEX FIT
| | | | | | |
| --- | --- | --- | --- | --- | --- |
|   | S | M | L | XL | 2XL |
| Inseam | 30 1/2 | 31 | 31 1/2 | 32 | 32 1/2 |
| Waist | 26 | 28 | 30 | 32 | 34 |