Open media in modal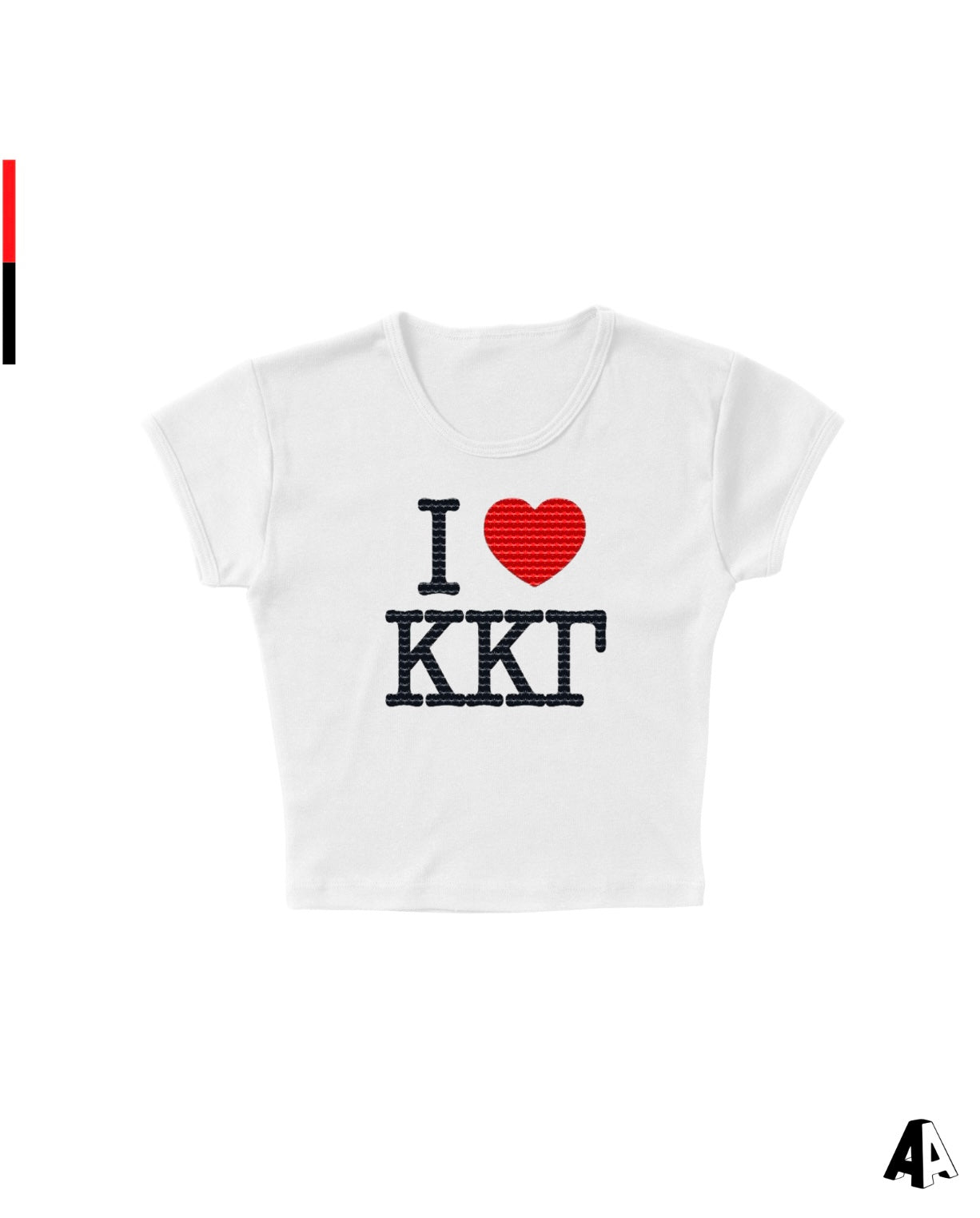 Open media in modal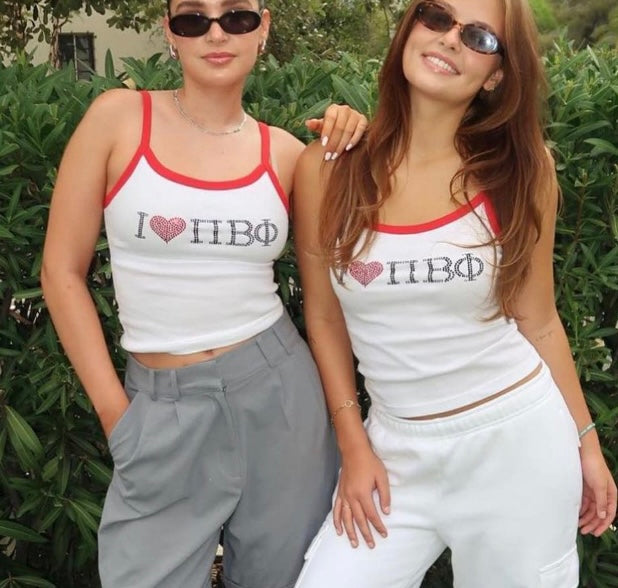 1
2
I Heart Rhinestone Baby Tee Kappa Kappa Gamma Tulane University
All products will be shipped to the following address regardless of address entered at checkout:
1033 Audubon St, New Orleans, LA 70118
Our combed cotton baby rib is made of soft 30 singles yarn and stretches up to 2 times its original size. This 100% cotton style shrinks 7% in wash and this style has been designed to fit before and after wash. Made in the USA by workers earning fair wages.
Please note, we have updated the style number of this style, which was previously style 43056. We have added 1" to the length and sized this garment. 
• Made In U.S.A.
• Baby Rib

100% Cotton
*This garment runs small, we recommend sizing up if you are in-between sizes.
Sizing Chart
Hoodie / Crewneck (UNISEX FIT)
| | | | | |
| --- | --- | --- | --- | --- |
|   | S | M | L | XL |
| Body Length | 27 | 28 | 29 | 30 |
| Body Length Tolerance | +/-1 | +/-1 | +/-1 | +/-1 |
| Chest Tolerance | +/-1 | +/-1 | +/-1 | +/-1 |
| Chest Width (Laid Flat) | 20 | 22 | 24 | 26 |
| Sleeve Length (From Center Back) | 33 1/2 | 34 1/2 | 35 1/2 | 36 1/2 |
| Sleeve Tolerance | +/-1 | +/-1 | +/-1 | +/-1 |
Classic Baby Tee (WOMEN FIT, RUNS SMALL)
| | | | |
| --- | --- | --- | --- |
|   | BODY LENGTH | CHEST WIDTH | SLEEVE LENGTH |
| XS | 211/8 in. | 125/8 in. | 53/8 in. |
| S | 215/8 | 135/8 in. | 51/2 in. |
| M | 221/8 in. | 145/8 in. | 57/8 in. |
| L | 225/8 in. | 155/8 in. | 6in. |
| XL | 231/8 in. | 165/8 in. | 63/8 in. |
| 2XL | 235/8 in. | 175/8 in. | 61/2 in. |
Ribbed Tank (WOMEN FIT, RUNS SMALL):
| | | | |
| --- | --- | --- | --- |
|   | BODY LENGTH | CHEST WIDTH | ARMHOLE |
| XS | 183/8 in. | 91/4 in. | 91/2 in. |
| S | 187/8 in. | 101/4 in. | 97/8 in. |
| M | 193/8 in. | 111/4 in. | 101/8 in. |
| L | 197/8 in. | 121/4 in. | 101/2 in. |
| XL | 203/8 in. | 131/4 in. | 103/4 in. |
Crop Baby Tee (WOMEN FIT, RUNS SMALL)
| | | | |
| --- | --- | --- | --- |
|   | FRONT BODY LENGTH (HPS TO EDGE) | CHEST WIDTH (1" BELOW ARMHOLE) | SLEEVE LENGTH |
| XS | 161/2 in. | 125/8 in. | 33/8 in. |
| S | 17 in. | 135/8 in. | 31/2 in. |
| M | 171/2 in. | 145/8 in. | 35/8 in. |
| L | 18 in. | 155/8 in. | 33/4 in. |
| XL | 181/2 in. | 165/8 in. | 37/8 in. |
Long Baby Tee (WOMEN FIT, TRUE TO SIZE)
| | | | | |
| --- | --- | --- | --- | --- |
|   | S | M | L | XL |
| Body Length | 26 1/4 | 26 3/4 | 27 3/8 | 28 |
| Body Length Tolerance | 3/8 | 3/8 | 3/8 | 3/8 |
| Chest Tolerance | 1/2 | 1/2 | 1/2 | 1/2 |
| Chest Width (Laid Flat) | 16 | 16 3/4 | 17 3/4 | 18 3/4 |
| Sleeve Length | 6 1/4 | 6 1/2 | 6 3/4 | 7 1/4 |
Standard Shorts (WOMEN FIT)
| | | | | | |
| --- | --- | --- | --- | --- | --- |
|   | WAIST | INSEAM | FRONT CROTCH | BACK CROTCH | HIP WIDTH |
| S | 26 in. | 21/2 in. | 111/4 in. | 15 in. | 201/2 in. |
| M | 28 in. | 21/2 in. | 115/8 in. | 153/8 in. | 207/8 in. |
| L | 29 in. | 21/2 in. | 121/8 in. | 157/8 in. | 217/8 in. |
| XL | 30 in. | 21/2 in. | 125/8 in. | 163/8 in. | 227/8 in. |
T-Shirt (UNISEX FIT)
| | | | | | |
| --- | --- | --- | --- | --- | --- |
|   | S | M | L | XL | 2XL |
| Body Length | 28 | 29 | 30 | 31 | 32 |
| Body Length Tolerance | +/-1 | +/-1 | +/-1 | +/-1 | +/-1 |
| Chest Tolerance | +/-1 | +/-1 | +/-1 | +/-1 | +/-1 |
| Chest Width (Laid Flat) | 18 | 20 | 22 | 24 | 26 |
Sweatpants (UNISEX FIT
| | | | | | |
| --- | --- | --- | --- | --- | --- |
|   | S | M | L | XL | 2XL |
| Inseam | 30 1/2 | 31 | 31 1/2 | 32 | 32 1/2 |
| Waist | 26 | 28 | 30 | 32 | 34 |